Confidex Steelwave Micro II™ NXP NTAG213
Small-sized NFC asset tag with versatile attachment options

Confidex Steelwave Micro II™ peak performance is achieved when tag is attached on-metal. However, it can be very well used on any surface or even hanging. Versatile attachment options make this small product a real All-Around indoor asset tag and enables new possibilities in ICT and electronics tracking.
Confidex Personalization Services will ensure you get your tag as you need it and tags are ready for commissioning right out of the box. 
Patent granted in EU and US (US.Pat. 8.794.531).

Still not sure? Then read up on the case studies below about the Steelwave Micro II: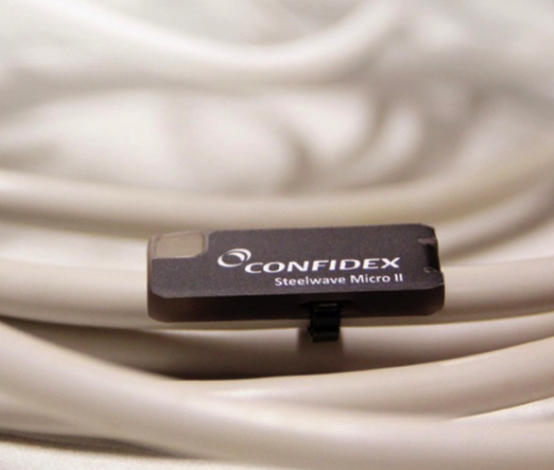 PRODUCT DETAILS (for the Confidex Steelwave Micro II NFC)
---
Operating Frequency: 13,56 MHz
Integrated Circuit(IC): NXP NTAG213
Memory: User memory 144 Bytes
Affixes to: Works on any material
Dimensions: 38 x 13 x 4.5 mm / 1.5 x 0.5 x 0.17 in
Read Range: Mobile phone up to 30mm/Fixed reader up to 40mm
Weights: 2g
Operating Temperature: -20°C to +70°C/-4°F to +158°F
Chemical resistance: No physical or performance changes in: 2 hour salt water exposure (salinity 10%), 2 hour motor oil exposure. Additionally, short time exposure resistant against sulfuric acid. Acetone and sodium hydroxide should be avoided.
Expected lifetime: Years in normal operating conditions
The specifications above are for the Confidex Steelwave Micro II NFC. We also have the Confidex Steelwave Micro II M4E and Confidex Steelwave Micro II M4QT with different specifications and chip type upon request. Contact us for further information.
■ ICT
■ Electronics
■ Healthcare
We are here to help in your RFID or NFC project, speak with one of our team members to find the best products now!
business@tristaramericas.com

Drop by our social media channels and stay tuned to the latest of the RFID and NFC market, and Tristar Americas:

Visite nossas redes sociais para se manter atualizado sobre as novidades da Tristar Americas e também do mercado de RFID e NFC:


Visite nuestras redes sociales para mantenerse al día sobre las noticias de Tristar Americas y también del mercado RFID y NFC:
Tristar waits your contact to assist in your RFID or NFC project!
A Tristar espera seu contato para auxiliá-lo no seu projeto RFID ou NFC!
Tristar espera su contacto para ayudarle en su proyecto RFID o NFC!