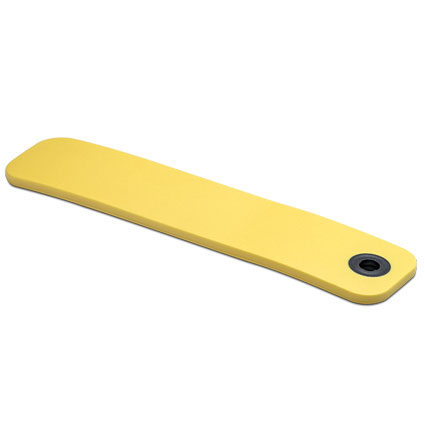 HID Global® SlimFlex™ RFID tags are among the most advanced general purpose flexible tags available. The unique thermoplastic elastomer (TPE) housings – made from the same materials used worldwide to manufacture automobile pipes and hoses – tolerate repeated bending or torsion, while maintaining excellent performancecharacteristics. The durable housing safeguards embedded electronics, even under harsh conditions.SlimFlex passive contactless transponders improve data collection speed and accuracy for logistics applications
The SlimFlex Tag Washer has been designed with one reinforced hole to rivet it. This version is ideal whenever a SlimFlex tag shall be fixed with a single rivet to hang down from metal bars or be placed on a hook.
PRODUCT DETAILS (for the UHF Washer)
---
Operating Frequency: 860-960 MHz (EU, US, JP)
Integrated Circuit (IC): Higgs 3
Memory: 512 bit user memory + 96 bit EPC + 64 bit TID
Affixes to: Any material (vertical mount)
Withstands Exposure To: Mineral oil, petroleum, salt mist, vegetable oil, HCL (10%), Bleach (5%); UV light
Operating Temperatures: -40°C to +70°C / -40°F to +158°F
Housing Material: TPU
Warranty: 2 years
The specifications above are for the SlimFlex Washer model, we've also got the SlimFlex HF 200, HF OM(on-metal), UHF 200, UHF Standard, UHF 301, UHF Laundry 2G and UHF Mini models. Contact us for further information.
Fields of Application
Asset Tracking and Logistics
■ Inventory Management
■ Itemize tacking of pallets and goods
■ Cylindrical items such as plastic bins or tree trunks
Returnable Transport Items
■ Shipping container or pallet trackingWaste Management
■ Commercial and Industrial plastic bin identification
We are here to help in your RFID or NFC project, speak with one of our team members to find the best products now!
business@tristaramericas.comDrop by our social media channels and stay tuned to the latest of the RFID and NFC market, and Tristar Americas:
Visite nossas redes sociais para se manter atualizado sobre as novidades da Tristar Americas e também do mercado de RFID e NFC:Visite nuestras redes sociales para mantenerse al día sobre las noticias de Tristar Americas y también del mercado RFID y NFC: