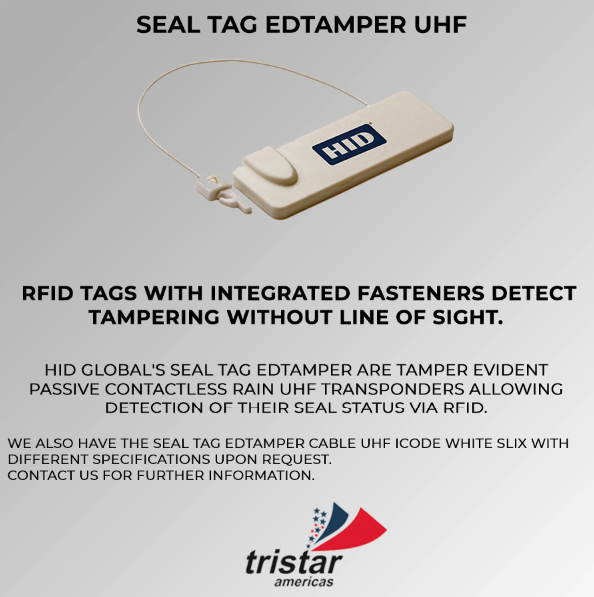 HID Global® Seal Tag transponders are ideal for sealing commercial containers – bags, bins or boxes – to prevent unauthorized access to contents while in storage or during distribution. Seal Tag units integrate powerful RFID chips with high durability components, and secure, tamper-evident fasteners. Access to a sealed container's contents requires severing a tag's cable tie or wire loop – or breaching of the container itself – providing clear evidence of tampering.
RAIN® UHF Seal Tag closures can be identified from up to 26 ft (8 m), enabling entire loads of sealed containers to be read as trucks pass through stationary readers. HF Seal Tags can be identified and updated with handheld readers and ISO 15693 compatible NFC Type 5 (NFC-V) devices.
vTamper tags
Each uniquely encoded Seal Tag vTamper RFID unit attaches anywhere a cable tie can be used, providing visual evidence when that seal is broken. Waterproof and food compatible, they have high resistance to aggressive liquids, UV rays, and temperature extremes. Thermoplastic elastomer (TPE) housings tolerate repeated bending or torsion. Bright colors provide excellent contrast for optical identification when laser engraved or embossed with logos, barcodes or text. Highly rugged on-metal options exist as well.
eTamper tags
Each Seal Tag eTamper NFC transponder becomes operational when its wire loop is securely closed or the disc sticker is applied. If the wire loop is broken, the tag is permanently unreadable, leaving evidence detectable both visually and via RFID. The printable coin form factor features the same eTamper functionality: The antenna breaks when the coin is removed – ideal for "proof of presence" applications or payment schemes. eTamper tags may also be used as an "intelligent" seal for life safety device cabinets, including fire extinguishers, automated external defibrillators (AED) or other equipment that benefits from trusted maintenance.
edTamper tags
Seal Tag edTamper are tamper evident passive contactless RAIN UHF transponders allowing detection of their seal status via RFID. Visualizing the tag is not necessary to identify broken seals. The edTamper tags-provide a digital notification if a sealed tag has been compromised to quickly scan large sets of sealed items for integrity. Typical applications include sensitive and highly-secure items like, aircraft life vests or weapon/ equipment racks that require periodic safety and security checks.