Tristar Americas presents: the low and high frequency disc-shaped RFID tags with extreme impact resistance, ready for outdoor use.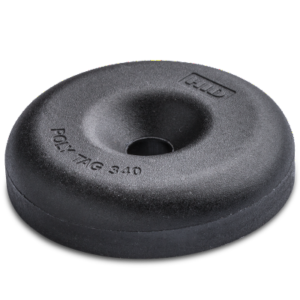 Poly Tag passive contactless radio frequency identification (RFID) transponders deliver reliable performance in a cost-effective housing that stands up to rugged conditions. Each heavy-duty disc is waterproof, highly chemical and shock resistant, and withstands peak temperatures up to 266° F (130° C)
Housed in field-proven, high-impact PA6 nylon thermoplastic shell, the tags absorb the daily bumps and jolts of industrial environments, while protecting the electronics within to ensure consistent communications with LF RFID readers and reliable performance in automation and manufacturing applications.
LF RFID Poly Tag discs perform best affixed to plastic or wood surfaces. They offer reliable, cost-effective tagging for near-proximity reader applications, with available data storage up to 2048-bit read-write capability.
HF Poly Tag disc offers anti-collision technology for faster data processing, up to 1024-bit EEPROM, and an improved read range over LF discs.
Key Features
Durable housing – withstands shock, impact and vibration; waterproof; resistant to chemical exposure.
Heat tolerant – during storage, industrial processing and daily use.
Versatile – mounts securely to plastic or wood with screws.
Cost-effective – excellent size-to-performance ratios.
The high frequency (HF) Poly Tag disc offers anti-collision technology for faster data processing, up to 2560-bit user memory, and an improved read range over LF discs. Chip options for NFC or Trusted Tag™ applications are available.
PRODUCT DETAILS (for the 629131-012 version)
---
Operating Frequency: 13.56 MHz
Chip Type: ICODE SLIX2
Memory: 2560 bit user memory
Anti-Collision: Yes
Reading Distance: Dependent upon reader, environment and application
Dimensions: Ø 1.34 x 0.31in (Ø 34 x 8mm)
Mounting Method: Screw-on
Affixes to: Metal, glass, plastic, wood
Weight: 2.7 oz (7.8 g)
Withstands Exposure To: Fuel B, mineral oil, petroleum, salt mist, vegetable oil, 90% humidity at 194° F (90° C)
Peak: 266° F (130° C), 100h
Warranty: 2 years

The specifications above are for the 629131-012 model, we've also got the 629131, 624131, 623131, 601131 models. Contact us for further information.
Automation and manufacturing
■ Processing boxes
■ Production equipment
■ Maintenance and Inspection
■ Proof of Presence
Asset tracking and logistics
■ Outdoor equipment e.g furniture, playground items, or walls
■ Plasticbins
We are here to help in your RFID or NFC project, speak with one of our team members to find the best products now!
business@tristaramericas.com

Drop by our social media channels and stay tuned to the latest of the RFID and NFC market, and Tristar Americas:

Visite nossas redes sociais para se manter atualizado sobre as novidades da Tristar Americas e também do mercado de RFID e NFC:


Visite nuestras redes sociales para mantenerse al día sobre las noticias de Tristar Americas y también del mercado RFID y NFC:
Tristar waits your contact to assist in your RFID or NFC project!
A Tristar espera seu contato para auxiliá-lo no seu projeto RFID ou NFC!
Tristar espera su contacto para ayudarle en su proyecto RFID o NFC!